Desktop Alerts
Get the latest Crystal Palace news or message board topics delivered straight to your desktop with one of our two alerts.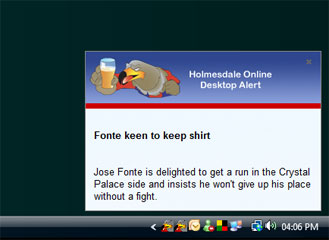 1. News alert
When a news story breaks an alert will pop up in the bottom right of your screen, letting you know the story details. Clicking on the box will take you straight to the full story.
Download Now (829KB)
Windows 98/ME/2000/XP/Vista
2. News and message board ticker
Keep up to date with all the Crystal Palace news and the latest from the message boards direct your desktop.
The ticker will sit at the top of your screen and scroll across with the latest news and message board topics. You can dock it to the bottom of the screen if you like and also adjust the speed.
Clicking on the headline or message board topic will take you to the relevant page on the website.


Download Now (751KB)
Windows 98/ME/2000/XP/Vista