March 31 2004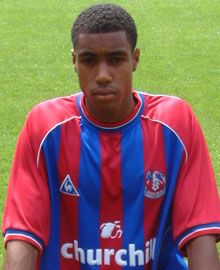 Winger Julian Gray has given the strongest hint so far that he may extend his contract to help Palace to promotion next season, by Joseph O'Shea.
Palace boss Iain Dowie is desperate to persuade the out-of-contract 24-year-old to sign a new deal to stop him leaving for free in the summer, but Gray has so far remained tight-lipped about his future.
But speaking exclusively to the Guardian, Gray said he is happy playing under Dowie and hinted at a willingness to give promotion with Palace another shot next year.
He told the Guardian: "The gaffer wants us to progress and keep on going forwards. When I came back we were down the bottom of the table and he has come in and we have risen up the table.
"Obviously we would like to try and get in the play-offs this season, but even if we don't I think it's a massive achievement from where we were. Hopefully we can build on that next season and I think we will."
The former Arsenal winger, signed for £500,000 in July 2000, walked out last summer
believing he could secure a move to the Premiership but trials with Leeds, Charlton, Bundesliga side Hannover 96, Blackburn and a loan spell at Cardiff City came to nothing.
Since returning in December, Gray has played every game, helping Palace claim 33 out of a possible 48 points, prompting suggestions he was the missing ingredient.
But Gray said: "I wouldn't like to say it's down to me coming back, it's a team effort. I have come back and given balance on the left, but it's not just down to me. The new manager has come in and Kit before him have got the team going in the right direction.
"People say I have improved, but I feel I have been playing the same way. When you
are away from the team and you come back people maybe pick on things they haven't
before."
Despite some outstanding performances, his apparent lack of loyalty still grates with a minority of fans and he was booed in the recent home game with Reading.
He said: "A lot of fans have told me they are behind me and given me good support. People are going to voice their opinion and there's nothing I can about that, they are entitled to do so, but I could not understand why I was getting stick from some fans. I just got on with my football and tried not to worry about it."
"Winning over the fans is not an issue for me, my job is to do the best I can on the football pitch. You can't please everyone all the time, so as long as I can please my team-mates and manager that's the most important thing."
Live Croydon Guardian text commentary
---