February 15 2006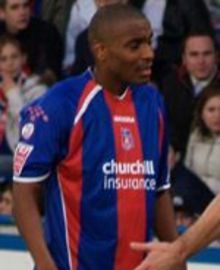 Despite having four of the division's best strikers, Palace are experiencing some scoring problems which could put the club's push for a play-off place in real danger, by Stuart Pink.
Of course Iain Dowie is well aware of the problem which is the reason behind the tinkering of strike partnerships in the hope to find the perfect combination.
AJ is rightly the main man but the Palace boss is still unsure who should be the England's striker foil.
Dougie Freedman seems to be the favourite at present, following on from Jon Macken who was given a deserved run in the side at the beginning of last month.
But neither has been spectacular alongside Johnson which means it may be the right time to give the AJ/Morrison ticket another go, but this time it should be stuck with.
How can two front men strike up a relationship by playing sporadic games together? Look at all good strike partnerships and you will see many did not automatically click. An effective strike force comes with time and persistence.
Morrison was bought for £2m to play alongside Johnson, but it has never really been tested over a succession of games.
The current goal drought might be the perfect time to try it out as, the Palace boss has tried everything else, what has he got to lose?
Live Croydon Guardian text commentary
---