June 24 2002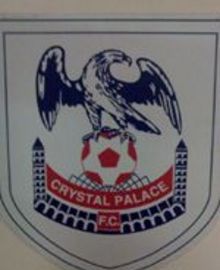 With Palace getting knocked out of the European Communities Trophy last month, Gordon Law recalls last pre-season's trip to the Costa del Sol where Palace played in the Marbella Cup...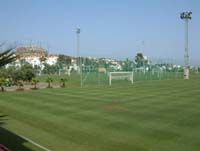 After several wrong turnings, we decided to take a chance and turn up this dirt track road and lo and behold, found the complex!
We spoke to the coach driver and he confirmed that he was picking up the Palace squad tomorrow evening.
Hallelujah, we had found it! But we got lost on the way back - crappy signposts again - and managed to get quickly get changed for a night out on the town, this time Torremolinos.
Torremolinos was a bit of a let down. What I imagined to be a lively resort, turned out to be fairly dull with families and couples. We weren't too pleased and rounded off a bad night in a Spanish club, which played crappy Euro pop. We promptly left.
Wednesday evening was Palace's first match. We set off to Marbella during the day for the posh hotel which the players were staying in and also had a look about the town.
We blagged our way in and started looking for them. They weren't about so we did a spot of sunbathing on the hotel beach before being told to move on.
As we walked across the lawn between the appartments, I was surprised to spot Fan Zhiyi chatting on the phone on his balcony. "There's Fan!", I called back to the others and Fan responded: "Allo mate" in a cockney voice - very nice!
We arrived at the ground at the same time as the Palace coach and the players seemed surprised we were there as Julian Gray was really staring at us out the window.
The multi-million pound training ground was only open a few months and the pitches were in superb condition. We mingled with the players before the game started and Steve Bruce and Simon Jordan were happily chatting to some of the 50 odd supporters who made it.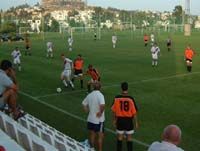 I'd like to thank Wayne Carlisle for pointing out the bog to me as I was bursting and not Julian for shrugging his shoulders in my time of need.
Aki, and Steve Kember were all mucking about as the team were getting changed.
So on to the game. Local part-time outfit San Pedro was the opposition as the scheduled side Osijek failed to make the trip and Palace cruised to a comfortable 4-0 victory.
The goals were scored by Smith, Thomson, Berhalter and Carlisle, while Morrison didn't play due to a minor injury. A full report of the game can be read here
---