March 6 2010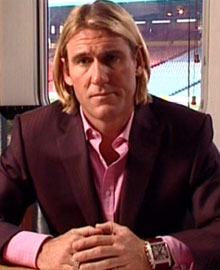 Simon Jordan believes Neil Warnock has shown "no loyalty" to Crystal Palace after leaving for QPR.
Warnock, 61, ended his spell as Eagles boss this week by joining rivals QPR after compensation was agreed between the West London outfit and Palace's administrator Brendan Guilfoyle.
The manager claimed Guilfoyle could not guarantee his future as he needed security for his family, while Guilfoyle said Warnock was determined to go but could not stop him.
Former chairman Jordan is disappointed Warnock has left Palace fighting a relegation battle and believes the manager he brought to Selhurst Park two-and-a-half years ago only quit for the money.
Jordan told the Mirror: "I feel let down. I feel that he has shown no loyalty. There is a lack of decency. He was a very dear friend and I looked after him for two-and-a-half years both professionally and personally.
"If you are close to a guy who has lost the club he has owned for ten years, his reputation is damaged and he has lost a shedload of money and he needs you to stay in there to help the club to survive, you would do it, wouldn't you? I am disappointed for myself, the club and the fans.
"There is not one iota of morality about Neil's decision. I feel foolish to be disappointed but I am an optimist and I always believe in the best in people. I don't feel that Neil had any moral justification for doing it. He had the security of his contract.
"There is one reason and one reason only that Neil Warnock went to QPR. It is nothing to do with the administrator.
"It is outrageous to say he was not given any assurances by the administrator. To claim he was forced out of the door is not true. Neil wanted to go."
Jordan added: "He said he wanted security but when he signed for me, he only wanted two-and-a-half years more. Now he wants three years. I told him he had a football club that desperately needed him. And he had to do the right thing.
"Neil spent a fair amount of time wrestling with his conscious trying to find a way to tell me. And when he did tell me, he was not greeted with a barrage of abuse. I told him: 'I think you are wrong Neil and I think you owe me more than that.
"I don't think it has been done for the right reasons. At least if you are going to go, have the courage of your convictions and say I am going to QPR because they are offering me a three-year contract on a lot of money and I want the security. Tell the truth'.
"I said to Neil that I was silly because I still get disappointed. I told him: 'All you are to me is just another football manager who has let me down'."
---