May 16 2011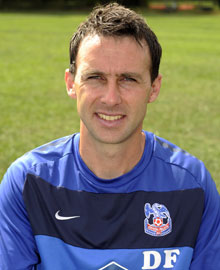 Jamesey looks back over the 2010-11 season when Palace once again flirted with relegation and nearly consummated the affair.
It all looked so promising on August 7.There we were with a new manager with a reasonably respectable CV, new owners who dripped common sense and credibility compared with the previous regime and, to top it all, we despatched Leicester City 3-2 in our first game at Selhurst. I was able to sup my post-match pint (or two) after the game with some satisfaction. Was this going to be the big turn-around to see Palace heading back to the promised land? I should, of course, have known better.
The next couple of games saw a reversion to the more normal pattern of recent years - we lost away and home and during the latter game, new manager George Burley proudly paraded his new signing, the ageing Dutch master Edgar Davids, around the pitch. Was this an inspired move or a foolhardy waste of time? We know now.
We lost our next two games, so that made it four consecutive defeats and by early September we had sunk to 19th in the Championshhip table. Nevertheless much goodwill was extended to George Burley and it was all too true that, after a difficult few months, a host of loanee players, administation and the spectre of liquidation hanging over Selhurst, any manager would have found it tough going.
Most supporters were in agreement that, despite our points tally, the team was playing more attractive football than under Neil Warnock and four points (three of them for a superb 4-1 victory against Pompey) from the next couple of home games brightened up the situation to a considerable degree.
While I was on holiday in Samos in late September/early October we gained one meagre point out of nine so the pendulum swung towards misery again and this, with one of the season's most crucial battles, Millwall at home.
We hadn't entertained the Lions for five years while they were languishing in the third division so this was a very important game. We also had the opportunity to pay our last respects to Malcolm Allison with a minute's clapping. Never has a manager been remembered with such love and affection but who produced such indifferent results on the field.
Well, the nightmare scenario unfolded and we lost the match 0-1 and were now bottom but one of the division. Even so, there were not too many mutterings about George Burley's managerial expertise considering many other clubs might have sacked him by now.
By November we finally got to where many of us inwardly feared we were heading - bottom of division 2 - and we were sent there by a stylish Swansea City side who made mincemeat out of us at Selhurst with a 0-3 drubbing.
Matters carried on in much the same vein as the festive season beckoned and many who had been sympathetic to our manager were now beginning to nervously wonder where we were going. Going down was my opinion and when I dared to come out of the closet and say it, I was criticised by many stridently hysterical and self-righteous posters on the HOL message boards.
But the prophet without honour on his own patch was totally vindicated on New Year's Day. The occasion was, of course, our 3-0 defeat by Millwall at the New Den. It was certainly a choker too far for me and the members of CPFC2010 just happened to agree with me and George Burley got the proverbial tintack that same evening. The men whose opinion really counted had decided that George was a Mistake with a capital M and it was time to stem the flow of blood from the weakening carcass of Crystal Palace FC.
So the search was on for a new man at the helm and the consortium decided to go for Eddie Howe, at that time manager of Bournemouth. Mr Howe had other ideas and threw in his lot with Burnley and, much to the surprise of many Eagles fans, the job went to George Burley's former No 2, Dougie Freedman.
Dougie's first home game as boss towards the end of January ended in an uninspiring 0-0 draw so the blazing start we had hoped for him was not to be. The Dougster is such a well liked and respected ex-player that we were all nervous for him.
It was a brave move on the part of the consortium to appoint such an inexperienced and untried candidate. But, hey, Ron Noades did the same thing with Steve Coppell nearly 30 years ago and who's complaining about the outcome of that.
Two more draws and a win saw us settling down somewhat but our chronically awful away record was a troubling statistic. In fact, by the end of the season we had only won one game away (Norwich in October). Even a below-average away tally would have seen us in mid-table safety without all the relegation worries that were to come. But did we ever do anything the easy way at Palace?
By early March a 1-0 win at home against Cardiff City saw us put a little space between ourselves and the bottom three relegation candidates but anyone who thought we were safe was fooling himself.
One of the more controversial incidents of the season was at Loftus Road where we played QPR, well on the way to the Loadsadosh league, under the guidance of our old boss, Neil Warnock. There had already been a few small but worrying incidences of bad behaviour among our travelling contingent but all that climaxed at Loftus Road.
When the Hoops scored their second goal to win the match 2-1, their keeper was showered with a salvo of bottles and other missiles for showing his pleasure at the goal.
This was, of course, totally unacceptable behaviour, but even on our own HOL boards, some morons tried to defend the incident along the lines of "only a bit of fun" and "the keeper provoked us". Many peacable and long-term supporters like your humble columnist were beginning to wonder what our club was coming to.
In our first game in April, we entertained Barnsley at home and a 2-1 win gave a lovely seven-point gap between us and the relegation zone. Surely we would be safe now? But after looking over our shoulder at the other strugglers' results for so long, we knew we could never be sure.
We picked up one point from the next two away games - quite good form by Palace travelling standards but the big one lay ahead. Scunthorpe had done the improbable and beaten QPR at Loftus Road the previous week so our home game against the Iron on April 17 was massively important to our survival prospects. The Scunnies hadn't won away for 10 games on the trot and we hadn't lost at Selhurst since October.
A sure thing, you might have thought. Was it b*ggery...We lost the match 1-2 and were now only three points above the drop zone - not a good place to be with only four games remaining.
We picked up another point at Doncaster but a gigantic test lay in wait at Selhurst for the visit of Leeds Utd. Neil Danns scored almost before the sound of the opening whistle had died away. Then, to use a phrase I first heard from Alex Ferguson, it was squeaky bum time for the rest of the game. I am ashamed to say that I doubted that we could hang on to the lead for the whole match, but hang on we did.
With two more games to play we were beginning to look safe but we always remember the famous lap of honour in 1993 when we beat Ipswich. We failed to allow for the impossible likelihood of Oldham winning their last three games which they did and Arsenal sent us down at Highbury after four seasons among the elite.
If you had thought things couldn't get any more nerve-racking you were wrong. The penultimate game of the season against Hull, also fellow-strugglers, was a real lulu. At one point in the afternoon, we were a goal down and Sheffield Utd were winning.
Had things stayed that way the Blades would have had a mathematical chance of leapfrogging us on the final day of the season. But a miracle in a shade of red-and-blue occurred. A kid called Ibra Sekajja came on with two minutes to go, scored the equaliser in seconds and, bingo, we would be playing Championship football again in 2011-12.
The final game of the season at home to Nottingham Forest on a glorious May afternoon was irrelevant really. It would have been nice not to be stuffed 0-3 at home and put on a better display for the Palace supporters. But we ended the season 5th from bottom and lets look forward, hopefully, to a non-relegation haunted season to come.
---
Email Jamesey with your comments to jevans3704@aol.com
In Depth Jamesey's Veteran View Index
---

Talk about this story on the message board

Like this? 12 people like this.
---