April 12 2012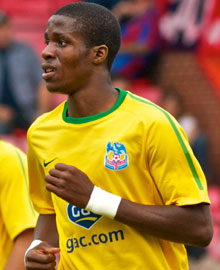 A spotlight on Crystal Palace's wing wizard Wilfried Zaha, by Aaron Mitchell.
Since his cameo apperance against Cardiff on the 27th of March 2010, Zaha mania has spread among Palace fans, and with his recent run of form, let's take a look back at the carreer the young Ivorian has had.
Wilf began his carrer at ASEC Mimosas at team in the Ivory Coast. However when his family moved to England, he joined Palace in 2007 and it did not take him long to make an impact. With regular appearances in the youth team and eventually the reserves he earned himself a call up to the first team.
Back in the troubled season of 2009/10 when Palace were struggling to stay in business let alone the Championship, Zaha earned himself a spot on the bench against Cardiff. Despite Palace losing the game 2-1, Zaha showed some of his talent that would soon see him go on to be a fan favourite, with his neat tricks and confident play.
However it was in the 2010/11 season that Zaha would show his true colours and raw talent that we crave from players. In the first game of the season against Leicester City, Wilf would score his first senior goal and would even chip in once more with an assist to set up the third after his shot was parried right into the path of super Alan Lee to inspire Palace to a nervy 3-2 win.
Wilf would make 40 apperances this season, scoring one goal and getting two assists and being praised by the players as a match for Victor Moses.
And that brings us on to this season. And after a difficult campaign beforehand, Wilf has stuck with the club after signing and extended contract and has continued to shine.
It is safe to say that he is safely on the team sheet every game, apart from when he gets the occasional suspension.
This has lead him to playing a total of 45 games this season, scoring seven goals and making a stand-out performance against Man Utd in that famous Carling Cup victory which has seen him catch the eye of other clubs.
This of course is just the tip of the iceburg, Zaha is surely to have a very successful career and has become an epic player at Selhurst, and only at the ripe age of 19.
---