May 22 2012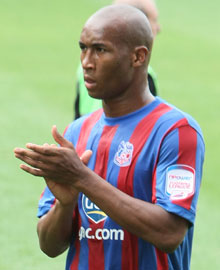 The news of the release of five Crystal Palace players last week was not much of a surprise, says Robert Seltzer.
We all know that players in the last year of their contracts are, for a season, playing for their futures. It is never nice for them involved to be told that they have no future at the club, but it is football and that happens.
I think everyone will agree on four of the players that went Jake Caprice, Charlie Holness, Nathaniel Pinney and cult hero Calvin Andrew.
With regards to Caprice, Holness and Pinney, Palace fans never really saw what they had to offer. Pinney has shown glimpses of an undoubted talent - his pre-season winner against Norwich immediately springing to mind - but as for Caprice and Holness, unless you watch the youth team regularly then not a lot is known about them.
Palace have a much-famed Academy and rightly so. Many players that have been produced through the system have gone onto big things in the game, some have wasted their talents whilst some are still at hallowed Selhurst plying their trade.
Though we have a high success rate in producing highly-talented players, this does not mean, as some Palace fans think, that every player that comes out of there will be a star. Of course we want them all to do well but we aren't the club that those players will progress at.
Calvin Andrew. If ever there was a player that people wanted to do well at Palace then Andrew was it. He worked his socks off, he would run and run and run.
Unfortunately, being a striker, the end product wasn't always there and that is how he will be remembered by some. For me though, although he won't go down as a great he will go down as someone that gave 120 per cent every time they stepped onto the field and for that I have fond memories.
The only player that has split opinion is Lee Hills. I remember him scoring that screamer against Bristol City. As soon as he came into the side people could see he had something about him. Quick, deceptively strong, with a wicked left foot. The future was extremely bright for him.
There haven't been many careers from my recollection (others may argue) that have been wrecked like Hills has. Two years out of the game at such a young age is very hard to come back from. I watched some of his games when on loan at Southend and he did look good. Was that enough to earn a new deal though?
Not in the eyes of the board. Us fans may well love him and want him to stay but we are not the ones picking up the bill. With player of the year Jonathan Parr, Dean Moxey and the emergence of Matthew Parsons, Hills would have found it hard to get much-needed game time.
Do I think that he will go on to be the player we thought capable? Yes. Do I think we may regret letting him go? Yes. Do I think it was the right decision to let him go? A reluctant yes.
We need to strengthen in certain areas, keeping a player on the basis of 'he may come good' in our situation is unfortunately untenable, the money saved on Hills and the rest that have left can go on players that will strengthen us and take us to the next level. I wish the players best of luck and look forward to welcoming them back to Selhurst one day.
---

Talk about this story on the message board

Like this? 3 people like this.
---