May 24 2012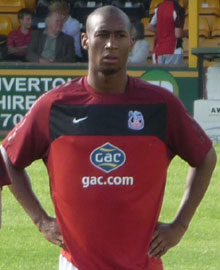 Calvin Andrew has spoken of his frustration at being released by Crystal Palace.
The striker was among five players let go by Palace this week after four-year spell that yielded just four goals in 68 appearances.
Andrew, 25, admits he only has himself to blame for getting shown the door and hopes the fans will understand he gave his all while at Selhurst Park.
"Itís no oneís fault but my own," said Andrew, who was speaking to the Croydon Guardian. "In football, when you do get a little chance, whether itís five or 10 minutes, you have to do your utmost to get in the team.
"But it is difficult when you are not playing and then suddenly you are, itís difficult to be 100 per cent at your best but you like to think you always give your all and that is all you can ask.
"Toward the latter part of me being at Palace it has been quite difficult, I have not played much and the games I was playing I was trying to find my feet and it was frustrating for both myself and the fans but I hope they know that when I played I always gave 100 per cent."
He added: "Of course it is disappointing to go, I have been at Palace for four years and I have seen a lot in that time, it is practically my home," he added.
"It has been massively eventful and I donít think I need to tell anyone about whatís happened at Palace in the past four years, it is well documented. Thereís been some hard times and some good ones but you have to move on to hopefully bigger and better things."
---