June 30 2012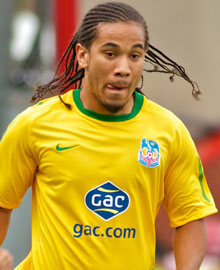 Crystal Palace chief Steve Parish says money from Sean Scannell's sale will go towards new players.
Scannell joined Huddersfield in a surprise move last Friday, and while the fee was undisclosed, co-chairman Parish revealed it will go straight into manager Dougie Freedman's transfer kitty.
"We wouldn't have done the deal if it wasn't right for the club," Parish told the Croydon Advertiser. "We need to freshen it up and he wouldn't have started every game.
"All the money will go back into the transfer pot. It may be different with other players, dependent on what we get, but this will form part of our summer plan.
"We have got a lot of midfielders and we are looking at the shape of the squad; we are looking to try and get a better balance.
"We need someone at the sharp end of the pitch and perhaps someone left sided. But we won't be [necessarily] thinking of a direct replacement.
"We want another striker, that is no secret. We will see what happens, but that is certainly an aim."
Speaking about Scannell's departure, Freedman continued in the Advertiser: "I have known Sean since a very young age and I have played with him and coached him.
"He is a fantastic young player, but I feel he could have perhaps been more consistent in his performances.
"I have some younger players pushing through with the likes of Kyle [De Silva] and Jonny [Williams] pushing for spots in the team.
"It was a difficult decision and I wasn't under any pressure to sell him, but I feel with the offer we received, it was a good deal [for the club].
"It opens up a position in the squad for the likes of Kyle and Jonny, who are two exciting young 18-year-olds. I don't want to stop their progress."
---