July 4 2012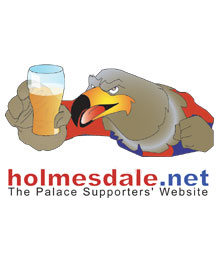 The Holmesdale Online has become one of the best unofficial fan sites on the internet - but we need your help to move forward!
The site has established itself as the most comprehensive Crystal Palace Supporters' resource and is growing at a rapid rate.
Due to overwhelming demand, we've had to upgrade to a new server very recently which means pages load faster and gives the site room for expansion.
The new server has treble the processing power, eight times more memory and 24 times more hard drive space than the old one. It meant pages loaded faster than usual on the recent fixtures release day - one of the busiest days of the year for traffic.
In order to maintain its costs, we are continuing our ELITE Members Club which will help pay for the annual cost of the server.
The ELITE Members Club is an exclusive list of users who receive the following benefits:
Your name listed on a special ELITE Members Club page on the site here and unique icon on the message board
Knowledge that you are helping the HOL move on to bigger and better things
There will only be 40 available places in this exclusive club, so make sure you join NOW!
A place in the HOL ELITE Members Club costs just £25 a year. That's works out at just 7p per day!
The easiest way of paying is through PayPal - click on the button below. But if you have problems with this, please email webmaster@holmesdale.net with the subject line "ELITE Members Club" and we will let you know payment options.
Holmesdale Online 1 Year Elite Membership - £25
If you already have paid for the Elite membership and don't find yourself on the list of members please contact webmaster@holmesdale.net.
---