July 22 2012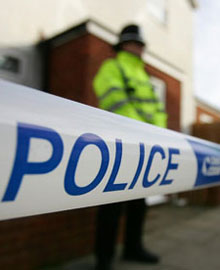 Niall Walker discusses dealing with the police as a Crystal Palace fan.
Whenever I get my dad on to the subject of Palace (which doesn't exactly require much provocation) there are certain anecdotal recollections he has especial enjoyment in telling me.
Many involve some bloke called Johnny Byrne, or the ebullient scenes of 52,000 crammed in to a breathless Selhurst, urging the mighty Glaziers in to the top flight.
However, one of his many regales holds a darker side. He tells me of when, in the 80s, he took himself and my grandfather along to Brighton, where the latter, by then around 70 was ruthlessly pushed over by policeman under half his age in an unprovoked assault.
Scenes of this sort from the Old Bill may be easy to cast in to the annals of a bygone era in football hooliganism. However, I doubt that the scene I have portrayed is particularly alien to many fans that have travelled away from home in the last few years with Palace.
We all know that there is a minority of supporters at this club who travel to cause a nuisance. They are not linked to any particular supporters group, nor are they representative of our fan base as a whole and the majority of us would rather see them banned than rub shoulders with them as fellow Palace fans.
However, the treatment of our fans, particularly last year by police, seems to disproportionately exaggerate this minority and has caused trouble for the vast majority of honest, passionate supporters we are fortunate enough to have.
We all know the story of Tommy Meyers, maimed by a police dog after innocently attending an away game at Reading and disputable tactics of wall-building on the Holmesdale road, or fan-filming at away matches during the game.
Recently, police have held a public discussion with Palace fans and the fans group FSF. This is a promising step in the right direction to re-establishing fan/police relations which have been so severed in recent years.
However, police have also recently announced that wouldn't be averse to using similar crowd controlling techniques as were used against Brighton earlier this year, despite a record number of complaints against it, and have also moved the Derby away match to a Friday as they view it as a high-risk match.
Football supporters are, on the whole, legal spectators of a public event, which they spend good money to watch, and wish to be treated as such. Police all too often seem, however, to view them as an obstacle that has to be quelled.
Having correspondence with fans will only work if they heed our advice. If they continue to treat us like cattle, we will be less willing to cooperate and the alarming alienation between fans and police will only escalate.
Of course police must use certain techniques to alleviate the issue of hooliganism, but in many ways these provocative methods of dealing with supporters only seeks to create a more hostile, aggressive environment.
---

Talk about this story on the message board

Like this? 4 people like this.
---