August 19 2012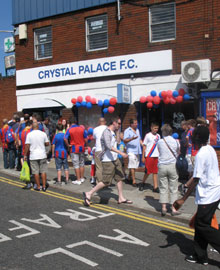 Jamesey has emerged from summer hibernation and returned to Selhurst for our opening league match of the season. But visitors Watford secured the three points with a 2-3 win.
It's been a wonderful summer for sport (with the exception of English and British football).
The last time the Olympic Games were held in this country was in 1948 when even your venerable columnist was but a small child, living in south Wales. Nobody but the stinking rich had television and the event probably wasn't even screened so the games went by almost unnoticed by many.
If the editor will indulge me in going briefly off-topic, could I say that I was really dreading the whole thing this time - the spectres of strikes, gridlocked traffic, dismal British results, and so on.
But my fears were unfounded and everything has been a glorious success.
Watching my compatriots grabbing medals - even in unlikely events - was an absolute thrill and my day at the Olympic stadium in Stratford reminded me of what sporting occasions can really be like. The atmosphere was electric, everyone applauded their competitors, waved their flags and everything brought a smile to our faces.
The Games volunteers couldn't do enough to help us and even the Army security checkers beamed at us all...well, it must be better than being in Afghanistan!
I was proud to be British and am grateful to have experienced such a magnificent celebration of sport late in my life.
Anyway to turn to the reality of Selhurst, another league season kicked off on Aug 18 against our old sparring partners from north of the river, Watford.
The weather was Mediterranean-plus and the enthusiastic turnout of 17,109, including about 1600 Hornets fans, basked in the almost tropical heat.
We did the double over Watford last season and I attended both games. But the club now has new owners and a new boss, Gianfranco Zola - a widely admired and respected player but with, as yet, no real track record in management.
On the Eagles front, three excellent players moved on during the summer - Sean Scannell, Darren Ambrose and Nathaniel Clyne while three new faces (to me) - Joel Ward, Aaron Martin and Aaron Wilbraham - made their league debuts in red and blue. The team had a rather a makeshift feel to it but that was only to be expected.
My main non-football disappointments were first the disappearance of Billy's the Asian-run chippie which only lasted one season. It has been replaced by Champion Kebab. Need I say more?
Second, I missed the swooping and soaring of Kayla the Eagle (her owners could no longer afford to bring her, I am told). Even so, the old girl might have found flying too close to the sun fatal in the blistering heat.
It is, of course, gut-wrenching to lose a season opener at home 2-3, by two late goals - one in the 88th minute and the other in time added on.
It looked as though we had the game wrapped up, not entirely deservedly, at 2-1 but the Hornets kept pressing forward and got their reward in the end.
Not a very happy start to another season but there's an awful long way to go yet.
---
Email Jamesey with your comments to jevans3704@aol.com
In Depth Jamesey's Veteran View Index
---

Talk about this story on the message board

Like this? 5 people like this.
---