September 4 2012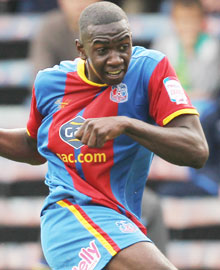 Yannick Bolasie is excited about his new challenge at Crystal Palace.
The 23-year-old Londoner signed from Bristol City two weeks ago for £300,000 after becoming fed up with life at the club.
"Iím just happy to be back home and under a manager who really wants me," Bolasie told the South London Press.
"I didnít feel I was getting a fair crack of the whip at Bristol City. I had a lot of ins and outs there last season and was kind of playing catch up. I was playing and then coming off - I didnít really know where I was. It was hard to concentrate.
"I thought Iíd have done better at Bristol in my first year. When the same thing started to happen this season it made me think that I didnít want to go through it all again. Thatís why I handed in the request.
"I think the manager at Bristol wanted me to stay but I couldnít see myself playing. I needed a fresh start somewhere else."
---