September 9 2012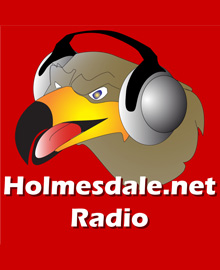 The Holmesdale Radio show is on tonight from 8pm.
We start the show with a live interview with academy-pro Crystal Palace footballer Kadell Daniel about, well, everything. Even penguins if Chris gets his way.
We'll then give our 'expert' opinion into the way we could approach the Charlton game and then look at all your predictions, feel free to post them below.
But wait! There's more (JML Ad style). We'll be discussing the stadium in great detail and looking at all the possible situations and also we'll reviewing the new signings up to this point and what we can expect from them in the future.
At some point during the show, we'll be giving out our 2x free Charlton tickets - you can still apply right up until 20:10 Sunday, simply follow the details listed here www.holradio.net.
As always, the show is based around you, the listeners, and we want to hear from you today. You can send us an email to radio@holmesdale.net, you can tweet us to @holradio or give us a call on 0203 4755 999 - press 1 when the show is live to go through to us or press 2 to leave us a message at any time.
---

Talk about this story on the message board

Like this? 1 person like this.
---