September 12 2012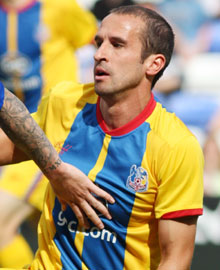 Crystal Palace duo David Wright and Kwesi Appiah have made one-month loan moves.
Wright joins Gillingham and Appiah goes to fellow League Two outfit Aldershot to get first team games under their belts.
Wright told the Palace website: "I've been speaking to the manager as obviously I haven't had that much game time this year and we felt that I was behind and not match-fit.
"I got a phonecall off Martin Allen and we had a good chat and I was really enthusiastic when I spoke to there and I'll go there and hopefully play lots of games and when I return I'll be flying."
Kwesi added on the official site: "At the moment we have a lot of strikers here and I'm probably not going to be in the team for the next few weeks so I thought it would be best if I went somewhere out on loan to get some games under my belt.
"I don't want to lose the match sharpness that I have. To play some league football is important to me so hopefully I can get some goals there and get back into this team."
---
Post this story to:
Palace Talk Forum Latest
Cardiff predictions at 2.23am by williamrufus
Palace v Brighton: before play off game this year at 2.18am by williamrufus
KG and Nelson at 12.39am by big_palace_fan
KG and Nelson at 12.30am by srh
KG and Nelson at 12.26am by big_palace_fan