September 19 2012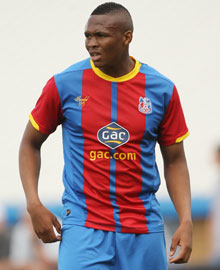 Palace's record against Nottingham Forest has not been terribly impressive of late. Would things change for the better at Selhurst? Jamesey went to find out.
I didn't go away to the Valley (Sept 14). In fact I didn't even listen to the game on Palace Player as my computer decided to malfunction. But I was naturally delighted to learn of our one-goal win against Chortletown Pathetic.
So when it came to a chilly, autumnal evening game (Sept 18) against Nottingham Forest another win would have meant three on the trot.
However having lost 3-0 in three out of the previous four meetings with the Reds, how would our new-look team perform?
In fact, the only new incumbent to start the game in red and blue was Damien Delaney so the team had a familiar old look to it, and it was good to see Jonathan Williams making a rare start. More of the same, please.
Looking at the back of the home match programme this season, it is interesting to see how our squad has been pruned. After years of appearing to have the biggest squad in the division, we now have one of the smallest. This is not intended as a criticism. Our owners are well balanced businessmen and we are cutting our coat according to our cloth at last.
On a personal note it was one of those days when minor irritations line up to get you.
I tend to enjoy my own company more and more as time goes by.
In an almost completely empty cinema earlier that day, a woman walked in as the film started, sat down a couple of seats away from me and started to scrunch her way through an enormous bucket of popcorn, forcing me to move. Incidentally the movie was Woody Allen's "To Rome with Love". The critics hated it. I adored it.
On the train to Selhurst I was adjacent to two Irish couples who had obviously lunched well and the noise was ferocious. Not only that but every other word was an expletive. Perhaps it's a generation thing but it still saddens me to hear well-spoken, young and apparently educated women using language that would have been banned at Billingsgate Fish Market. I couldn't move away because the train was full.
Even in the empty reaches of central Block W of the Arfur, a few minutes after kick-off, a quartet of over-excited geriatrics came and sat directly in front of me. That was not a particular problem but they jumped up and down with delirious joy every time the ball went remotely near the Forest goal forcing me to bob up and down too. I had to move again.
Anyhow as far as the game was concerned it looked like another goal from KG at the start of the second half could have given us a well deserved win. But always expect the unexpected at Selhurst.
Even down to 10 men after a red card, Forest's Dexter Blackstock poked in an equaliser nine minutes from full time much to our deep disappointment. Nevertheless a 1-1 draw was a sight better than losing 3-0 again.
An official gate of 13,153 turned out for the game to see a side with great promise. Let's see what we can do against the Bluebirds (or from what I hear, perhaps in should be the Redbirds?) on Saturday.
---
Email Jamesey with your comments to jevans3704@aol.com
In Depth Jamesey's Veteran View Index
---

Talk about this story on the message board

Like this? 5 people like this.
---