September 24 2012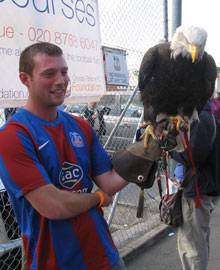 It was an afternoon to be savoured and remembered when the Eagles played host to Cardiff City. Jamesey reports on a thrilling encounter.
I am not usually a superstitious person but two omens gave me hope for our game against Cardiff City (Sept 22).
The 3-2 win for Palace justified my faith but you would never have bet on it at half-time.
First omen was the return of Kayla the Eagle to Selhurst. Outside the ground Kayla's owner told me that there had been funding problems with the club but these had "sort of" been resolved.
Kayla's imposing presence is always a pleasure to behold outside, and on the pitch, at Selhurst. Surely an imperious eagle could see off a load of trilling bluebirds?
Second omen was an encounter on the Selhurst-bound train with a group of Germans, all wearing sports kit emblazoned with the legend "Barmin Eagles".
They were all charming, well-mannered and good-humoured and later, talking to them in the Arfur, I discovered that they were an amateur football team from the Berlin region over here to play a game and had decided to take in a London match involving another Eagles aggregation.
I have to say that some of them looked a little long in the tooth to be playing football but, hey, let's not quibble about details.
Anyhow, surely with Kayla and a flock of Teutonic eagles, matters could only be promising. It's always an advantage to have the Germans on your side when it comes to a fight...and that's how it looked at the start, with Palace bright and dangerous, just as they were against Forest a few days previously.
But Cardiff City are a classy team, tipped by many to finally ascend to the Show-me-the-money League this season after so many near misses. They demonstrated their quality by snatching two goals in the first quarter of an hour, very much deflating our expectations.
Nil-two down at half time against a team who would be difficult to beat looked like an impossible task.
But cometh the game, cometh the man - in this instance the magnificent Glenn Murray.
The Palace team played superbly in the second period, never looking downcast and always probing and attacking.
The reward for the whole team's efforts was a Murray hat-trick, two penalties sandwiching a skilfully taken opportunist strike.
There was no giving away soft equalisers on this occasion. Palace not only hung on but often looked like adding to the three-goal tally.
It was jubilation to the nth degree at the final whistle and if Glenn Murray can produce a few more performances like that, his place in the Palace Pantheon is indeed assured.
---
Email Jamesey with your comments to jevans3704@aol.com
In Depth Jamesey's Veteran View Index
---

Talk about this story on the message board

Like this? 5 people like this.
---