October 16 2012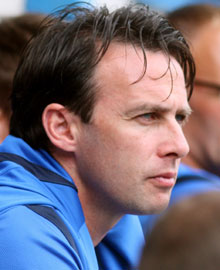 Dougie Freedman has played down rumours that he is interested in the vacant managerial position at Bolton Wanderers.
The Scot is currently the bookies' favourite to succeed Owen Coyle in the hot seat at Bolton Wanderers, but he was quick to dismiss journalists' questions regarding the vacant job.
He said: "I cannot stop speculation, but I am very happy to be playing Millwall this weekend and that's all I want to say. I cannot deal with speculation, I have too much to do in this job.
"I only deal in facts, and the facts are that I have a game against Millwall this weekend and I am keeping my fingers crossed that my players come back from international duty without any injuries, and I am also keeping my fingers crossed that I have prepared in the best possible way so that we win the match.
"Those are the facts, let's stick to the facts."
He added: "When I was younger, 19 or so, and there was speculation that I'd be playing for Rangers and Celtic, at that age I found it quite difficult to deal with.
"But as you get older, you can brush it aside."
Meanwhile loanee David Goodwillie has returned to Blackburn Rovers, after playing just one game for the Eagles.
The Scottish striker failed to settle in London and the Eagles decided the best thing was to terminate the loan deal.
---