October 25 2012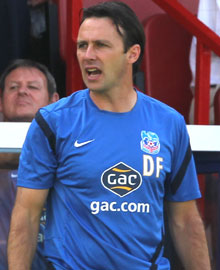 Robert Seltzer tries to understand why Dougie Freedman this week left Crystal Palace for Bolton...
Well what a week it has been to be a Palace fan. Continuing our unbeaten run to nine games (even though in some eyes we dropped fours points), a local derby at home to Millwall, fourth in the table and oh yes, losing our manager.
Now when these rumours about Dougie Freedman being favourite for the Bolton job, I like a lot of you I assume merely batted it away. "Why on earth would he go there?" I thought.
Look at what we have, a young, hungry, in-form team that are playing the way that he wants to play and people are thrilled to watch. The gates are improving and we are on the up.
Bolton Ė a team relegated last season, havenít had a full house in the Premier League in years. Having to sell their best players, not playing well and a huge debt, no contest. I was wrong.
Now when I take off my Palace tinted glasses and look at the facts it isnít that much of a surprise. Bolton have been a premiership club for many years.
They have their parachute payments an even with their debt will probably have more money to throw around at players and definitely have the recent pedigree to attract bigger names. They were rumoured to be offering up to three times the wage he is on at Palace.
Now that type of pay rise for a manager that, letís be honest, has not proven himself yet would be almost impossible to turn your nose up at. I donít think that many people would be able to turn down such a deal, I know I wouldnít, especially when the offer you currently have is only for the year and you have a family to provide for.
Now the Palace tinted glasses are back on. It does leave a sour taste in the mouth. As stated we had just started to play well and pick up results. Dougie said that he was halfway through a job and he wanted to complete it (shades of the Warnock saga coming back).
He is and always will be a Palace legend so why choose a club like Bolton? I can understand the lure of a Premier League club, but I think there was a reason that none of them had him on their shortlist as possible replacements for their managers and that reason is why it is a huge gamble for both parties involved.
Bolton have put up a lot of money and Dougie is trying to build his managerial reputation. I donít think we need to panic. Players are not going to be flying out the door now. They clearly like the style of football they are playing and will hopefully continue to pick up results
We may never know the real and full reasons as to why he left and why he went to Bolton. What I will say is that he will be missed and will always be looked upon warmly by myself for everything he has done for the club. Good luck Dougie.
That chapter is done now and it is over to the next man whomever that may be to get behind and get us to the promised land.
---

Talk about this story on the message board

Like this? 10 people like this.
---