October 25 2012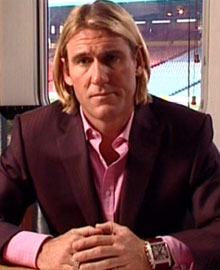 Former chairman Simon Jordan has taken a swipe at the Crystal Palace board's handling of the Dougie Freedman affair.
Freedman, 38, was today confirmed as Bolton's new manager after being in charge of Palace for just 21 months.
His departure has shocked Eagles fans who are disappointed a club legend would quit in such fashion after recently saying his job was only half done and with the team currently sitting fourth in the table.
Ex-chief Jordan, who famously put Steve Bruce on gardening leave when the manager was approached by Birmingham, insists he would not have let Freedman join the Trotters.
He also makes bizarre claims that the Palace board no longer wanted Freedman at the club and were happy for him to join their Championship rivals.
Jordan told Talksport: "There's no way that if Dougie was doing a good job, whether I liked him or not, and a good job is managing a squad which is not strong enough but a squad that's punching tremendously well in the league at the moment. He's got all the players firing in the fight direction, so why would you allow him to go?
"Why would you say to Bolton football club, no you can't have permission, and then yes you can have permission almost instantaneously? I certainly don't think it has anything to do with vast amounts of money and compensation.
"I was forced by circumstances to give Steve Bruce a new contract and I was actually pleased to do it because he deserved it. Now that didn't work out for me, but he was very clear in his mind that I wanted him. And I think possibly with Dougie I don't think the same situation has been replicated.
"There's no logic. You have to look at the personalities involved. Dougie is a very, very popular character, and he's very popular with the fans, sometimes it's difficult. It was never difficult for me, but sometimes it's difficult for people to countenance that a manager may be more popular than owners.
"And possibly star players like Wilfred Zaha you know may well be being sold in January against certain people's agreements and wishes.
"I think Dougie's sensible enough to know that if he was wanted at Crystal Palace that getting a better contract is prevalent because if someone comes in and woos you it's an opportunity to get a better contract that's the facts football operates on."
---

Talk about this story on the message board

Like this? 5 people like this.
---