December 7 2000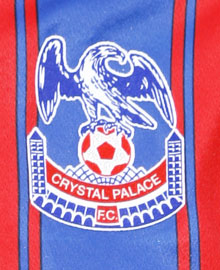 Palace skipper Neil Ruddock is facing a £100 fine after using a nickname on the back of his shirt in the game against Wimbledon on Tuesday. It is the second time in one week that the former Liverpool defender finds himself in hot water with the Football Authorities.
Ruddock had "Razor" displayed on the back of his shirt instead of his actual surname during the League game against Wimbledon at Selhurst Park on Tuesday.
The Football League did not appreciate this stunt and fined the player. The fine will be £100 for breaking the rules and it will be increased to 400 the next time it happens before doubling up to £800.
After Palace's third goal Ruddock turned his back to the supporters and pointed to his name.
Also today was the news that Palace signed a young goalkeeping talent by the name of Lance Cronin.
Cronin is signed from Brighton but the clubs are still negotiating a compensation package.
The 14-year-old England under-15 international was also targetted by Manchester United, Southampton and Aston Villa as well as Division One high-flyers Fulham.
Brighton chief executive Martin Perry said: We are in talks with Crystal Palace about a structured deal but it isn't settled yet. It all depends how far he goes in his career. If he goes all the way to international level it would be a significant sum."
Cronin commented: "My contract with Albion ended in May and I was offered a five year deal including three on scholarship. Although after six years it's a wrench, I haven't been happy. I've decided to leave for personal reasons, including the fact I was only getting half a game and wanted to play more."