February 28 2009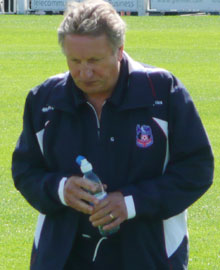 Neil Warnock hopes to bolster his squad with some loan signings after watching Crystal Palace lose 2-0 at Watford.
Warnock said: "I didn't see Watford have many chances and Tommy Smith and Jobi McAnuff flattered them a bit. That's the type of player we are looking for.
"It is still possible but we don't have the quality at the moment. I am trying to get a few loan players in but the climate is difficult to get anyone in at the minute.
"Watford had a few more leaders out there this afternoon but I certainly didn't see much of a Chelsea influence in their play."
Warnock reckons Watford's first goal was offside - one of a number of decisions he felt the linesman got wrong.
Warnock said: "I wanted to make sure that we kept an eye on the offsides so I had my subs warming up with him.
"We were very disappointed obviously with the goal but a couple more before that as well. The referee came over to speak to me and I thought he handled it very well.
"He has to take the linesman's decision as he sees it. The fourth official had a word with me all afternoon but that is what he is there for. I have no problem with him."
Watford boss Brendan Rodgers added: "In the FA Cup game we were 4-1 up with 15 minutes to go and they went more direct and got some joy.
"So I expected them to start that way this time and that's how it went but we coped magnificently well with it.
"We stood strong and showed good organisation and when we had the chance to play football we created some good chances."