June 14 2018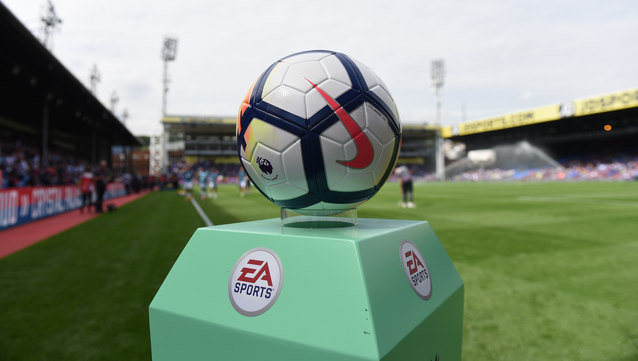 Crystal Palace will open their 2018/19 campaign with a visit to Premier League new boys Fulham.
The season kicks off on Saturday, August 11 and Eagles manager Roy Hodgson will hoping for a winning start against his old club.
Jurgen Klopp's Liverpool are Palace's first home opponents a week later at Selhurst Park – another one of Hodgson's former teams.
Palace will visit Brighton for the M20 derby on Tuesday, December 4, with the Selhurst Park fixture coming on Saturday, March 9.
The Boxing Day clash is a home fixture with Neil Warnock's Cardiff City and Palace go to fellow promoted club Wolves on New Year's Day.
The Eagles finish their campaign with a home clash against Bournemouth on Sunday, May 12, 2019.
Television broadcasters will be announcing their scheduled games shortly with some of Palace's fixtures likely to move.
Full fixtures list:
11/08/2018 Fulham (A) 15:00
18/08/2018 Liverpool (H) 15:00
25/08/2018 Watford (A) 15:00
01/09/2018 Southampton (H) 15:00
15/09/2018 Huddersfield Town (A) 15:00
22/09/2018 Newcastle United (H) 15:00
29/09/2018 Bournemouth (A) 15:00
06/10/2018 Wolverhampton Wanderers (H) 15:00
20/10/2018 Everton (A) 15:00
27/10/2018 Arsenal (H) 15:00
03/11/2018 Chelsea (A) 15:00
10/11/2018 Tottenham Hotspur (H) 15:00
24/11/2018 Manchester United (A) 15:00
01/12/2018 Burnley (H) 15:00
04/12/2018 Brighton and Hove Albion (A) 19:45
08/12/2018 West Ham United (A) 15:00
15/12/2018 Leicester City (H) 15:00
22/12/2018 Manchester City (A) 15:00
26/12/2018 Cardiff City (H) 15:00
29/12/2018 Chelsea (H) 15:00
01/01/2019 Wolverhampton Wanderers (A) 15:00
12/01/2019 Watford (H) 15:00
19/01/2019 Liverpool (A) 15:00
30/01/2019 Southampton (A) 19:45
02/02/2019 Fulham (H) 15:00
09/02/2019 West Ham United (H) 15:00
23/02/2019 Leicester City (A) 15:00
26/02/2019 Manchester United (H) 20:00
02/03/2019 Burnley (A) 15:00
09/03/2019 Brighton and Hove Albion (H) 15:00
16/03/2019 Tottenham Hotspur (A) 15:00
30/03/2019 Huddersfield Town (H) 15:00
06/04/2019 Newcastle United (A) 15:00
13/04/2019 Manchester City (H) 15:00
20/04/2019 Arsenal (A) 15:00
27/04/2019 Everton (H) 15:00
04/05/2019 Cardiff City (A) 15:00
12/05/2019 Bournemouth (H) 15:00