June 2 2004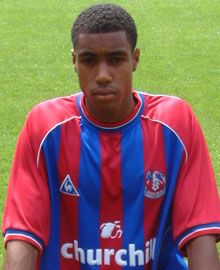 Out of contract winger Julian Gray is in talks with Palace about a new deal, but will weigh up a number of options before deciding his future, by Joseph O'Shea.
On Monday, two days after watching Palace promoted to the Premiership for the first time in six years, the 24-year-old was offered a new three year contract.
But with former manager Steve Bruce keen to sign him on a free transfer for Birmingham, Gray is not rushing into any decisions.
Gray told the Guardian: "I am in talks with the club at the moment and they have offered me a new contract. I have got a lot of options to think about. Birmingham are interested and so are a few other clubs."
Iain Dowie is desperate for Gray to help establish the club in the top flight, after playing a key role in their promotion. He missed Saturday's final through suspension, but during the celebrations, the Palace boss ushered Gray forward to take a bow with the trophy.
Dowie said afterwards: "There's a lot of lads we want to try and get signed up. It's nice today because we have given ourselves a good opportunity to keep Julian.
"We've got a good relationship so I hope that will count for something. We want him to stay, he's a player of Premiership quality."
Gray appreciated the support of his manager, team-mates and fans in Cardiff and has clearly rediscovered his affection for the club, six months after walking out to secure a Premiership move.
He said: "All the lads wanted me to hold the trophy and it made me feel part of it. I have got great respect for the gaffer, John Harbin and Kit Symons.
"They are great people and obviously I want to do the right thing. But I have got to do what is right for Julian Gray, so I am not making any decisions yet."
---