March 6 2006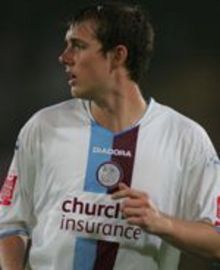 Gary Borrowdale is determined to play a big part in Palace's promotion push - even if it means making his mate miserable.
Left-back Borrowdale, 20, has been a regular in Iain Dowie's starting line-up for the last month.
But the Palace boss will have a selection poser soon because Danny Granville is finally close to full fitness.
Borrowdale admits fellow defender Granville has been a big help in his development, but he will be delighted if he can keep his friend out of the side.
He said: "People think Danny and I can't be good friends because we're in competition for the same shirt, but that's not the case at all.
He's much more experienced than me and helps me out all the time, which means I've learned a lot from him.
"But it feels good to be back in the side and I hope I can push on and keep my run of form going.
"My aim has to be to stay in the team for the rest of the season."
With the bitter after-taste of Saturday's disappointing defeat against promotion rivals Leeds still lingering, Dowie has already set his sights on the re-match.
The teams meet again at Elland Road later this month and Dowie is determined to get revenge.
He said: "We'll have some big occasions between now and the end of the season and we need to win some of those.
"It puts some fire in the belly for the game at Elland Road, that's for sure."
---