February 3 2010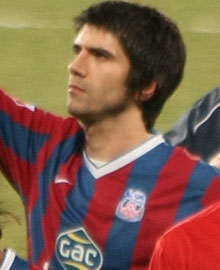 Defender Danny Butterfield is in total shock after scoring his first-ever hat-trick in Crystal Palace's 3-1 FA Cup win over Wolves.
The right-back scored three times in seven minutes to help Palace progress to the fifth round and make history in the process with the club's fastest-ever hat-trick.
Dougie Freedman's previous hat-trick record of 11 minutes scored against Grimsby on March 5, 1996, has now been shattered.
And what makes it more remarkable is Butterfield has scored only once in the past five-and-a-half seasons with the Eagles.
"I still can't believe it's happened," he said. "I'm normally a one goal every four seasons man so to get three in one night is unbelievable.
"I think I was a day too late, I could have perhaps gone for four or five million yesterday! I still can't believe it."
Team-mate Shaun Derry added: "We came to the game with great confidence. It's been well documented what has happened in the last two or three weeks, culminating in a bad week for us last week with administration. But there's some spirit in this team, the boys are unbelievable.
"We have a mighty game away against Scunthorpe on Saturday. But we are going to enjoy tonight and look back on this result in a few years' time as a great victory."
---