Crystal Palace Transfers
February 2 2012
Another transfer window slammed shut this week and we've compiled a new section listing every player Crystal Palace have bought and sold.
See every player that has joined and departed the club for each season going as far back as 1905 when the club was founded.
You can browse each campaign by clicking on the "Next Season" and "Previous Season" links or select a particular year in the dropdown.
Check out the player profiles and see how much of an impact the signings made by their player rating which you can vote on.
The new section is located in the "Players" part of the website where you can also view any profit or loss the club made in the transfer market for each campaign.
We have tried to collate as much transfer information and as accurately as possible, so if you can help with missing or incorrect data then please email editor@holmesdale.net
---
Post this story to:
Palace Talk Forum Latest
The "we love you song" at 1.39am by meatpienz
Disaster-MUST READ! at 1.28am by Jimenez
The "we love you song" at 1.06am by Cucking Funt
Apologies to Ollie at 1.05am by phillanth
Murray at Wembley at 12.57am by Seth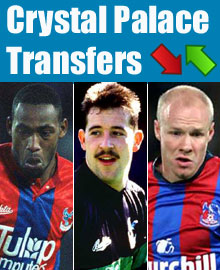 Crystal Palace transfers
Latest Headlines