June 3 2012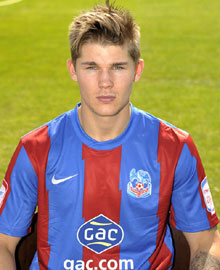 Lee Hills admits it came as no surprise to be released by Crystal Palace.
The left-back, 22, was let go by the club at the end of the season after an injury-plagued two years.
Now the Academy graduate hopes to find a new club and rediscover the form that saw him earmarked for a bright future before his knee problems.†
He told the South London Press: "I love Palace. Iíve been there for eight years, so from that point it is disappointing.†
"But it is time for me to have a new challenge and go out and play somewhere every week.
"Iím really not thinking about any clubs at the minute - I just want to go on holiday and rest. Iíve had two bad years and then had three months training every day and playing at Southend.
ďIíve got no doubt that if I have a good pre-season with a team then I can fly straight back up the leagues.
ďIt wasnít a surprise to be let go, considering I had been injured for so long and that Palace had bought two left-backs during that period. My contract would have been sorted out earlier if I was going to get anything."
---