June 7 2012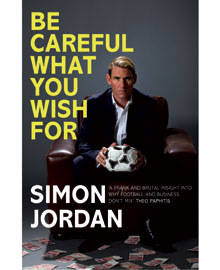 The Holmesdale Online are giving away five copies of Simon Jordan's new book Be Careful What You Wish For.
It is billed as the first book to lift the lid on the former Crystal Palace owner's story and reveals for the first time how the national game really works.
Jordan spares no one, least of all himself, as he takes us inside a world where hopes and aspirations sit alongside greed, self-interest, overpriced players, dodgy transfers and top-level incompetence. He doesn't hold back.
Breathtakingly honest, highly controversial, humorous and full of jaw-dropping anecdotes, Be Careful What You Wish For is far more than a football book. It is a social commentary on the culture of great wealth and ambition; a Shakespearean tragedy that exposes the dark side of chasing a dream.
There's a video clip of Jordan talking about the book here.
It is published in the UK on hardback and ebook today, June 7 2012.
But if you want to win a copy, all you have to do is answer the following question: What year did Simon Jordan take charge of Crystal Palace?
Send your name, email address and answer to competition@holmesdale.net before June 14, 2012 and your name will end up in the draw. Winners will be contacted by the book publisher.
If you do not win, you can buy a copy of the book at Amazon here.
Alternatively, Jordan is signing copies of the book tomorrow (Friday June 8) between 12.30pm and 1.30pm at Waterstone's, Leadenhall Market, EC3V 1PJ. More details here.
---

Talk about this story on the message board

Like this? 1 person like this.
---