Marrow sent to Fleetwood
August 17 2012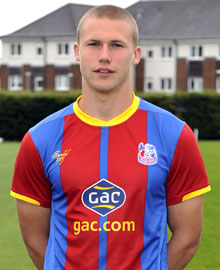 Crystal Palace midfielder Alex Marrow has joined League Two club Fleetwood Town on loan.
Town have not announced how long the period will be but Marrow could make his debut this Saturday against Torquay.
The 22-year-old was lent to Preston for the second half of last season after recovering from ankle and knee injuries.
Now Marrow, who signed from Blackburn in August 20120, can get regular first team action in The Cod Army's first-ever Football League season.
Marrow played three times last term for the Eagles and 25 appearances overall.
---
Post this story to:
Palace Talk Forum Latest
Chelsea Vs Palace predictions... at 12.06pm by The Sash
Were they or weren't they assaulted at 12.02pm by gambler
Were they or weren't they assaulted at 11.52am by bexleydave
Were they or weren't they assaulted at 11.38am by skj
my dad at 11.23am by Palace Pat