September 9 2012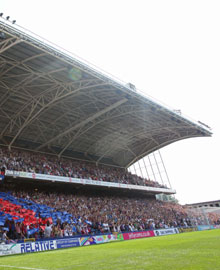 Crystal Palace co-chairman Stephen Browett has hinted that the club may stay at Selhurst Park.
The board last year unveiled plans to re-locate to their original home at Crystal Palace in a £40m state-of-the-art 40,000 seater stadium.
But with planning constraints and objections from residents likely to be a major stumbling block, talks with Sainsbury's have started about redeveloping Selhurst.
Browett told the Advertiser: "Steve (Parish) has already stated that we'd love to move to the park. But it is felt that planning issues and appeals could make that too difficult.
"Not so much opposition from the council, but from local residents. At the moment Steve is talking with Sainsbury's to see how the development of Selhurst would work in partnership with them.
"They would like a bigger store and we would like a better stadium. There is plenty of room for both. It should be possible to develop one stand at a time and not have to move out."
---