McCarthy injury blow
September 12 2012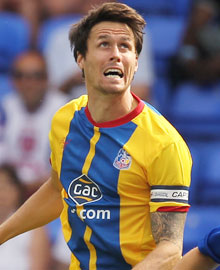 Crystal Palace skipper Paddy McCarthy faces a further month on the sidelines.
The defender has yet to feature this season due to a groin injury he sustained in pre-season.
Palace boss Dougie Freedman told the South London Press: "It's looking like Paddy will be missing for a longer period of time, at least another four or five weeks.
"The injection he had has either given him an infection or been in the wrong area and it has swollen up again, making him very stiff and sore.
"As we speak he is four or five weeks away from it. It is a terrible bit of news for Paddy and we're just as disappointed. We've missed him and continue to miss him."
---
Post this story to:
Palace Talk Forum Latest
Big Sam - WHU email - cringe at 3.36am by 7@burnley79
Big Sam - WHU email - cringe at 3.23am by 7@burnley79
Parish: Palace can do a Southampton at 3.08am by 7@burnley79
USA Coverage - Mark Bright legend at 2.53am by 7@burnley79
Legal analysis re ETO defence at CoA at 2.47am by 7@burnley79