October 22 2012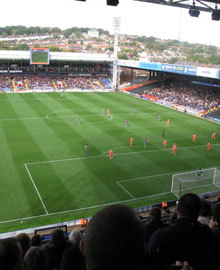 Jamesey was eagerly anticipating one of his all-time favourite fixtures... home to Millwall.
I don't really mind moving out of my seat in the Arfur for an away bum (Oct 20), even a Millwall one. But being booted out to make way for a nothing rather rankles.
But orders is orders and the Met chose to limit the Millwall ticket allocation to two and a half thousand or so, meaning what looked like acres of empty seats, including mine.
It's a shame such preventative measures have to be taken and the great paradox of why such a sometimes beautiful game seems to attract such ugly behaviour rears its head again.
Millwall have always, of course, been a leading contender in the moronic antics league and I appreciate that although not all Lions supporters are psychopathic idiots, the club does seem to attract an above-average share.
The gate was officially 16,124 and it is a pity that CPFC 2010 couldn't gain the revenue benefits of what should have been a 20,000-plus crowd.
I chose to be relocated way up in the upper tier and have never been so high at Selhurst before apart from during the '60s when jazz woodbines were all the rage...
As I have said before and I don't mind repeating it again, to most of my generation Millwall have always been far and away our principal rivals. When I saw the light in the mid-50s and became a Glazier, Charlton were too big-time to be a special enemy and Brighton? Well, did they even exist then?
So that's the way it is for me and a home fixture against the gentlefolk from the New Den is always a very special occasion.
On paper, Palace were naturally strong favourites, on a devastating run of form and holding fourth position in the Championship, while the Lions were struggling at fifth from bottom.
And that's very much how it panned out for most of the first half, with the Eagles looking sharp and dangerous and gaining a two-goal advantage with strikes from Mile Jedinak and Damien Delaney.
I should really know better by now but I almost had the temerity to anticipate a thumping big victory and more Palace goals to come in the second half.
Then, shortly before half-time it started to go wrong.
Dean Moxey handled on the Palace line, got himself sent off and gave away a penalty.
We could debate the wisdom of Dean's action till the cows come home. It would probably have been smarter to have let the ball go in the net and we would still have been sitting on a 2-1 lead - and with 11 men.
Even if Millwall had missed the penalty we would still have been facing a numerical handicap in the second half. But, of course, they didn't miss it and we were sitting on a 2-1 lead with 10 men.
The Lions came back with a vengeance after the break and wave after wave of attacks tested the Eagles' defences. It was a sight that became all-too-familiar last season - grab a goal and try to defend the advantage except that on this occasion, being player a down is a pretty good excuse to defend a lead.
Almost inevitably in the 77th minute, Mark Beevers equalised for the Boys from Bermondsey and it was nail-crunching time for the remainder of the match.
The Eagles held out for a 2-2 draw and to be honest, that wasn't an unfair result.
Millwall played way above the form-book guide. But then, they always do at Selhurst Park...
---
Email Jamesey with your comments to jevans3704@aol.com
In Depth Jamesey's Veteran View Index
---

Talk about this story on the message board

Like this? 5 people like this.
---