Newcastle United 2 - 0 Palace
Sat Jan 5 2002 - FA Cup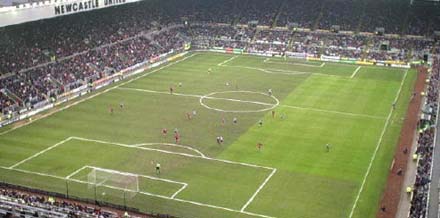 Crystal Palace's FA Cup dreams were ended by a 2-0 defeat to Newcastle at St James Park for the second time in three years.
The Eagles lost 2-1 at St James Park at the same stage of the competition in January 1999, with Lee Bradbury geting the Palace goal at the time.
This time, Alan Shearer scored his sixth goal in six games in the 40th minute to give the home side the lead going into the break.
Substitute Clarence Acuna made sure of victory when he added a second in the 76th minute.
But Palace were by no means disgraced at St James Park. They made Newcastle work hard for the victory and had chances of their own to score.
Shay Given made two exceptional saves from Aki Riihilahti and Clinton Morrison had a fine goal disallowed for offside. Television replays later showed the goal was perfectly legitimate.
Riihilahti's first chance came as early as the third minute. Julian Gray's cross from the right was cleared by Nikos Dabizas only as far as Riihilahti who saw his shot saved.
The Eagles took the game to the hosts early on, but Newcastle showed their quality and got back into it.
Alex Kolinko tipped away a Craig Bellamy shot and was called into action again, on the 23rd minute.
Bellamy was put through on the right with acres of space and the Latvian keeper rushed off his line to hold him off by the corner flag.
But Bellamy managed to go round him and put a cross in for Olivier Bernard, whose shot looked a certain goal, only for Kolinko to appear from nowhere and push away for a corner.
The home side kept the pressure on Palace and could have been awarded a penalty when David Hopkin appeared to trip Bernard.
Then five minutes before the break, after Tony Popovic conceded a free-kick at the edge of the box, up stepped Shearer who drove through the wall after a lay-off from Nolberto Solano to make it 1-0.
In the 54th minute, Morrison saw his goal disallowed by the linesman while the Toon pressed for another goal.
Dabizas had a header saved by Kolinko and Bellamy's return shot hit was blocked on the line. In the 63rd and 75th minutes, Newcastle too were victims of the linesman's flag when Shearer and Bernard respectively had goals disallowed.
Riihilahti then had a fierce header, which was destined for the back of the net, saved by Given. Down the other end with 14 minutes to go, sub Acuna lifted his shot over Kolinko which went in off the crossbar and was enough to put Newcastle's name in the hat for the fourth round.
Man of the Match: Kolinko for THAT save.
Chant of the Match: "Ant & Dec are homosexual!" and "Shit ground, no fans".
The fans' view:
Our support was SUPERB, the team were SUPERB and some of the decisions were NOT SUPERB.
The stadium just blows you away! (and it's only half finished!!!!) The first half was quite well contested and until "that" free kick we looked fairly comfortable. The linesman seemed to need to think about the offside rule (for BOTH teams) and somewhat spoilt the Counter attack style employed by both teams.
Newcastle were blindingly quick going forward, and our defence looked a little slow. Popo looked a little unfit as did granville. MULLINS was outstanding and stood out in the palace side.
The second half, we came out and really played some great football. We even started to command the midfield. Aki suddenly hit some sort of form and Mullins was moving forward a lot more!
Gray and Morrison were causing problems by switching every so often, and when Clint scored we went BALLISTIC! Only to spot a bl00dy offside flag!! Was he off? I haven't seen the highlights yet.
Newcastle got their second, after Popo decided to run across his own 18 yard line with the ball!! What????????
ALEX KOLINKO WAS AMAZING!! WE COULD HAVE BEEN 5 OR 6 DOWN HAD IT NOT BEEN FOR HIM. BYE BYE CLARKE!
The local Geordie radio gave the Man of the match award to Given!! Tht must tell you something about our performance!! Well done lads. Lets carry it in to the league!! Chris H
---
Normally I don't comment on referees (having one in the family), but yesterday was one of the worst I've seen (and I thought TF was rather diplomatic!)
I don't think there was any chance of Crystal Palace winning, had we gone ahead Newcastle would simply have "moved up a gear".
However, I can't remember the last time I witnessed such a blatant display of bias towards the home (Premier) time as I saw from Mr Riley. I was so incensed after the game that I resisted writing until now.
With the score 0-0, shortly before haft time, a Newcastle played kicked the ball, Popovic was struck on the chest (reports in the papers talk about the bruise to prove this). Yes, he may have instinctively raised an arm, but didn't make contact.
I'd suggest anyone being faced with a ball kicked at them from close range would do likewise. Does this always mean a free kick? To make things worse, Mr Riley allowed the kick to be taken at least 5 yards nearer the goal than where the 'incident' took place.
TWICE Mr Riley over-ruled the assistant and awarded Newcastle a throw-in. On one, the Newcastle player had clearly kicked the ball out of play.
A clear corner for Crystal Palace, signalled as such by the assistant, was changed to a goal kick by Mr Riley.
Not once were Palace allowed an advantage. In the second half Julian Gray was tackled, but kept his feet and was clear on goal. Mr Riley blew for a free kick. When Gray tried taking it quickly Mr Riley brought him back, so giving Newcastle a chance to defend.
Later Palace were awarded another free kick. A Newcastle player was no more than 2 yards away and intercepted the ball, yet on this occasion (being cynical, perhaps because Newcastle had possession?) Mr Riley chose not to insist the kick was retaken.
Finally the incident that has been commented on by the various TV pundits. Often judging offside can be difficult because of angles etc. On this occasion Mr Riley had the benefit of a white line (18 yard box).
Clearly TWO Newcastle players were standing inside the Newcastle area, Morrision was at least a yard outside. The assistant was perfectly placed and did NOT signal. Mr Riley chose to ignore all this and disallowed the goal.
I wonder how another official such as David Ellery or Uriah Rennie would have dealt? I'm certain Newcastle would have won the match - but FAIRLY. I just hope the assessor marks accordingly.
I'm not blaming the ref for the result, but for "strange" decisions. If you read the message properly I said at the beginning that I thought Newcastle deserved to win.
Watching the replays, one of Newcastle's was clearly offside, the other was much closer than ours. None of the TV commentators thought the decison was wrong on either of the Newcastle instances Old Chap
---
On top of the referee though, the linesman who was on the dug out side of the pitch was terrible as well. His constant late raising of his flag really got to me yesterday, the worst being when someone played a pass to Thomson (I couldn't see if Thommo was offisde or not) but the linesman didn't flag, he waited for Thomson to run 10-15 yards to the ball, collect the ball, run forward for another 10 yards and then flag.
I don't think anyone had a bad game, Hopkin was probably our worst player in my opinion, but the thing that made me happy was our defence looked settled.
Popovic and Symons seemed to gel very well and Granville I think will be a very good player when he is match fit, coz he made some excellent runs but seemed a bit sluggish at times.
Gray and Morrison were excellent in the first half, running around everywhere, pressuring the keeper (something Jules forgot to do in the second half) and Aki had his best match for months. Sammy the Eagle
---
No one really had a bad game, just some obvious areas where we were outclassed, Granville didn't play well, but given time will fit in well. Alex was voted MOTM by most of the people I spoke to after the game, (and by Alan Hansen as player of the day on the BBC).
The linesmen flagged on the basis of the players reactions throughout the game. I haven't been able to find anyone who saw it live, never mind on a replay, who thinks Clint was offside. Mind you, one of their 2 disallowed gaols was kosher as well, and I haven't seen the other one yet.
We did outsing the barcodes (see below), but according to the lads I spoke to afterwards, there are only a few games (boro, & Sunderland) where they make any noise at home (bit like us really).
PS Ner ner, ner ner, ner ner ner ner ner ner for 25 mins really hacked them off. A medal should be struck for the lads with their shirts off, classic. Jake d'Eagle
---
Gray and Morrison kept switching from centre to left up front which caused Newcastle a bit of trouble but Kirovski who I presume was meant to play on the right kept just drifting into the centre leaving Hopking very few options when he had the ball going forward.
Aki seemed to suddenly remember how to play football and had a good game. Don't think anybody really played that badly, Kirovski probably the worst for me, very quiet, and Popovic didn't look like the player we had before he went to Australia, then again thats probably down to fitness.
Alex Kolinko amazing once again! Wherever Clarke is hiding he can probably stay there for a while the form Alex is in at the moment I wouldn't drop him even if we had Gianluigi Buffon on the bench!!!
The free kick, haven't got a cue what it was given for. At first I thought it was a Popovic handball from the ref's actions but I'm sure Popovic was in the box and the free kick was given outside....
Atmosphere was incredible from Palace, non stop singing in the last half hour. St James is a lovely stadium, but the small chant of "s*** ground, no fans" had to be the funniest of the afternoon. Well worth the trip even if we are out of the cup now. Marco
---
Good on the Palace fans though, I thought they were the loudest set of away fans this season and gave our mute audience some real stick.
Neo - Newcastle United fan
---
Post match comments:
Francis said: "It's interesting because I've just been talking to Clinton Morrison and he was absolutely convinced that he was onside.
"He asked me what I thought but I can't see from where I am in the dug-out.
"I was more disappointed with the first goal because it struck Tony Popovic on his chest - he's got a big red mark where the ball actually struck him - and the free-kick was given for handball, and that produced an excellent finish from Alan Shearer.
"I'd like to congratulate Newcastle as worthy winners, but I think we gave a good account of ourselves. Whilst it was 1-0, I always felt that we were in with a bit of a chance.
"At 2-0, then it was always going to be very, very difficult to come back, but the pleasing point was that they continued to work hard, kept their discipline and kept their shape, and overall, I think we we've done the best we could."
Alex Kolinko made an outstanding save, when he rushed off his line to the corner flag to stop Craig Bellamy. But Bellamy got the cross in and Kolinko managed to race back and save Olivier Bernard's shot.
Francis added: "I don't know what 'rush of blood' is in Latvian. Since Matt Clarke has been out, Kolinko has come in and he's played very well. He's a little bit unorthodox at times, but he's a fantastic shot-stopper and I thought he made some vital saves, as he has done in recent games.
"I don't know quite what he was doing out there, but he got back and rectified his mistake with a save that, from the moment it left Bernard's foot, I thought it was a goal. It was an excellent save."
Newcastle boss Bobby Robson said: "I'm delighted. I think we've given a very solid performance.
"It was a typical cup tie where a non-Premiership club can come to a Premiership club and on the day, rise to the occasion and give a pretty good performance.
"It was never over, it was never easy and Shay Given made two very good saves. Those two saves were very important to us and kept us intact - but that's what he's there for.
"We never made any silly mistakes or personal errors at the back, which has helped us to keep a clean record.
"Nobody was slacking. We went from start to finish. We'd lost two on the trot and we needed to win again, otherwise you're on that banana slide with Leeds United to come next Saturday.
"We needed a good performance from them and I'm delighted with what they've given us."
Send us your own match report Click here
Match Stats
Ground: St. James' Park (Attendance: 38089)
Newcastle United: Given, Hughes, Distin, Dabizas, Elliott, Solano (Lua Lua 84), Dyer (O'Brien 84), Speed (Acuna 54), Bernard, Bellamy, Shearer.

Subs not used: Harper.

Booking: Distin.

Goals: Shearer 40, Acuna 76.
Palace: Kolinko, Gray, Symons, Popovic, Granville, Thomson, Riihilahti, Hopkin (Rodger 81), Mullins, Morrison, Kirovski.

Subs not used: Berhalter, Harrison, Kabba, Carasso.

Booking: Hopkin.
Referee: Riley, M. A. (Leeds)