February 11 2003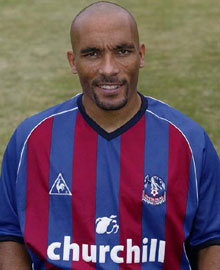 Club captain CURTIS FLEMING will delay surgery to his troublesome knee until the end of the season.
The 34-year-old former Middlesbrough defender has been troubled by a niggling knee injury for the past three months and suffered a knock on the same knee in his comeback game against Liverpool at Selhurst Park.
In a bid to help Palace achieve a play-off position at the end of the season, FLEMING will delay a much-needed operation until the close season.
He will miss the FA Cup fifth round tie against Leeds on Sunday and Trevor Francis has said that he won't expect him to return to the squad until next month.
Francis said: "We're not anticipating him being back until next month. It's bad enough that if the season ended now he would need an operation.
"But we're trying to avoid that because if he had surgery now his season would be over. He will be treated and rehabilitated in an effort to try to get him back next month."