February 26 2003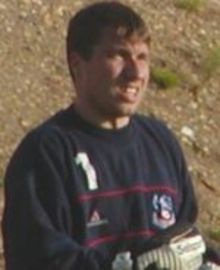 Renegade keeper ALEX KOLINKO will leave the club this week after agreeing a settlement with Simon Jordan.
The Latvian number one has been confined to the subs' bench since refusing to play against Leicester, in February, because he claimed he was owed £3,000.
He reckoned it was a breach of his contract and wanted to leave on a free transfer. It turned out that the bill from two-and-a-half years ago was actually £1,200 and was promptly paid by the club.
According to the Croydon Guardian, he has agreed terms with a foreign side, possibly
Spartak Moscow, and has been released from his contract which was due to expire in July.
Trevor Francis will now have to bring in cover for French keeper Cedric Berthelin who currently is on-loan. First choice Matt Clarke is likely to be out for the rest of the season.