April 24 2003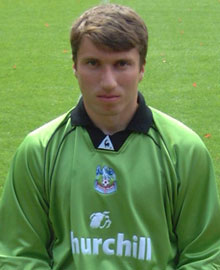 Alex Kolinko believes Simon Jordan will go for a big name manager at Palace and not keep caretaker boss Steve Kember in charge.
Kember said he would love to take the job on full-time but results have not improved since Trevor Francis has departed.
Kolinko said: "We were surprised that Francis went. Everybody thought he would be here next season and the chairman had said he would be.
"But I don't think Kember and Bullivant have got a chance. I think the chairman will bring in someone new.
"He has big ambitions and he will bring in a big-name manager."
Kolinko is reported to have been offered a new contract to stay at Selhurst Park now Francis has gone.