July 3 2003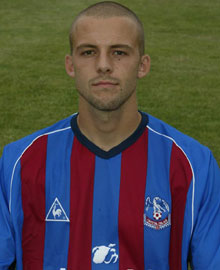 David Hunt has left Palace and joined third division Leyton Orient.
Hunt, 20, who was offered a new contract by Palace, saw his future away from the club, and rejected what was offered.
Orient's manager Paul Brush had been monitoring the progress of Hunt whilst he was putting in several impressive performances in the reserves.
He told Orient's official website: "I've been after him since March, having seen him play for Palace's reserves, and tried to get him on loan before the deadline but he was in their first team squad at the time.
"Initially it was expected he would be at Palace this year and we could have him on loan," added Brush.
"It's taken quite a lot of negotiations to get him here but from when I first spoke to him he really wanted to come to the club."
Hunt made his Palace debut against Oldham in the Worthington Cup last season, and then featured two more times against Sheffield United and Watford in April.