August 13 2003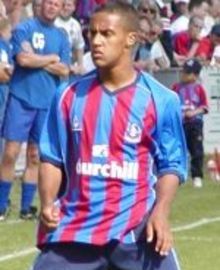 After his nine men won 3-2 at Burnley, Palace boss Steve Kember attacked the referee's "complete inconsistency" and said the club will appeal WAYNE ROUTLEDGE's red card.
Roultledge was dismissed for a professional foul on Luke Chadwick just eight minutes into a thrilling opening day clash.
Shaun Derry followed on 67 minutes for two yellow cards and both players will now miss the "away" clash with Wimbledon on August 23.
But Kember is seething that referee Chris Foy showed 18-year-old ROUTLEDGE a straight red, having failed to card Burnley's Lee Roche when he brought Dougie Freedman down for penalty four minutes earlier.
Kember told the Guardian: "I just can't see how you can do one thing at one end and do nothing at the other. It was complete inconsistency.
"He said to Dougie he was going away from goal but having looked at the video it was complete and utter nonsense.
"It was more of a sending off than WAYNE ROUTLEDGE's was because WAYNE actually made an attempt to get out of the way."
Although ROUTLEDGE's red card looked justified at the time, Kember says ROUTLEDGE thinks Manchester United loan player Chadwick dived.
Kember said: "Looking at the video, you can't actually see whether he touched him but WAYNE says he jumped and his foot never touched him but the boy dived."
"We are going to appeal WAYNE's one but there's nothing we can do about Shaun's
"It wasn't a dirty game and there wasn't a bad foul all afternoon, yet we have had two players sent off.
"Shaun's first booking was complete and utter nonsense, and the second one was just a challenge - there was nothing malicious about it and he won the ball."
Losing ROUTLEDGE for the Wimbledon game would be a blow for Kember, because he is short of cover on the left-hand side, but the return of Hayden Mullins and the imminent signing of Michael Hughes despite a contractual hitch should compensate for Derry's suspension.
Kember added: "They will miss the Wimbledon game, but Hayden should be fit and back from suspension and the Hughes thing could be over the line by then."
"I am still hopeful of signing Michael. There is one point that needs to be sorted out and I'm confident we can resolve this in the next 48 hours. My aim is to have him signed in time for our game against Watford on Saturday."
Out of contract defender Mark Williams has had his trial with Palace extended