October 27 2004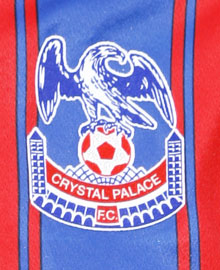 FITZ HALL's accomplished performances at the back for Palace this season will only intensify talk of an international call up, but for which country? by Stuart Pink.
The Walthamstow-born defender is eligible to play for England, Scotland and Barbados.But HALL, who scored his first goal in a Palace shirt last Saturday, is putting all international talk aside to concentrate on keeping Palace in the Premiership.
HALL said: "Every kid growing up wants to play for their country, but I'm not going to set myself any targets because I don't want to be left disappointed if that doesn't happen.
"But at the moment I am concentrating on getting myself established in a Premiership team."
The 23-year-old revealed he has spoken to Berti Vogts about a possible Scotland call-up, after the Scottish manager heard about HALL's grandfather's Scottish links.
HALL said: "I have spoken to him Vogts when I was at Southampton, but I was born in England and I see myself as English. That's not snubbing Scotland, but I just want to concentrate on playing in the Premiership."
HALL has been an inspired purchase by Iain Dowie, who managed the defender at Oldham, after the player spent a frustrating last season at Southampton.
HALL said: "When I played I thought I played well enough to stay in the team. But when I heard I had a chance to come and work with him Dowie again, and Crystal Palace is a big club and is in the Premiership, which was an incentive on its own, it was in the best interests of myself. He brings out the best in me."
Dowie believes people are now starting to see the best of FITZ HALL. He said: "I've settled him at right centre-half and that's what he is. He's a terrific talent, fantastic on the ball and he's got pace and strength so there's lots of attributes that he's got. He's showing what he's capable of."