December 2 2004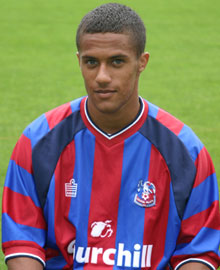 WAYNE ROUTLEDGE is still beaming after opening his Premiership account on Saturday and will make sure the goal enters the record books as his goal, by Stuart Pink.
The England U21 star's strike gave Palace the lead against Southampton at St Mary's, but there have been suggestions that the FA's Dubious Goals panel could credit the goal to Saints defender Andreas Jakobsson who deflected the ball into the net.
But ROUTLEDGE is adamant it's his goal and that Saturday's result slightly overshadowed his joy of scoring his first of the campaign.
ROUTLEDGE said: "In my opinion it was my goal because it was going on target, but we'll have to see how it goes with that.
"But it was a good feeling to score and it would have been even better if we won the game, but to take a point from an away game in the Premiership is a good all round day."
The 19-year-old showed in Saturday's game that he is returning to his early season form after an indifferent period, which coincided with speculation surrounding his future after a transfer deadline day £3million bid from Tottenham Hotspur.
But his future still remains undecided as contract talks are currently progressing and the Palace man insists he still does not know what's going to happen.
ROUTLEDGE said: "I spoke to the gaffer the other day about it, but I'm not really concentrating on that, I just want to play football and let my football do the talking and we'll see how it goes.
"I honestly have no idea, I haven't received nothing, so if I haven't received nothing I don't know what's going on until I see things happen in clear daylight."