March 26 2005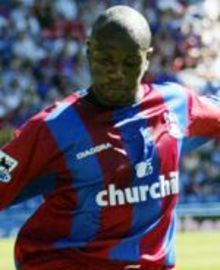 Emmerson Boyce is set to miss the rest of the season after breaking his foot in training.
Boyce, 25, kicked the bottom of Mark Hudson's boot in a 5-a-side training game. The right-back has been a revelation in the Palace side since his move from Luton in the summer and only signed a contract extension last week.
"I have been lucky with injuries throughout my career so far - this is the first major one I've had," he told the Croydon Advertiser.
"I was happy, with all my future sorted then I go home with a cracked foot.
"Tackles fly in. On another day I would have kicked the bottom of his foot and it would just be badly bruised - it is one of those things.
"It could have been worse I suppose, but I think it has more or less ruled me out for the rest of the season."