June 12 2005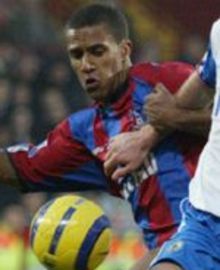 The turmoil surrounding the future Tottenham Hotspur's sporting director Frank Arnesen is one of the reasons why WAYNE ROUTLEDGE's impending move to White Hart Lane is travelling at a "snail's pace" according to Bob Dowie, by Stuart Pink.
The Palace youngster is out of contract and has signed a pre-contract agreement with the north London club, but both sides have been unable to agree on a fee that will avoid the deal going to a tribunal.
After Arnesen was suspended by Spurs after he allegedly informed the club's hierarchy of his desire to leave the club to join Chelsea, talks surrounding the ROUTLEDGE deal have been affected.
Bob Dowie said: "We are just trying to agree a fee. We are in lengthy negotiations.
"But the upheaval over there hasn't helped, which is the reason why we are working at a snail's pace."
Dowie also hinted that ROUTLEDGE would not be the only player leaving the club in the summer, as the squad will have to be trimmed in order to make way for the players brought in over the next month.
Dowie said: "With three or four new arrivals coming in there may be some restructuring of the squad."
Other out-of-contract players Danny Granville, Darren Powell and Dougie Freedman are expected to have talks with Palace boss Iain Dowie next week about securing new deals, but are all likely to have to accept pay cuts to stay on.
Players who were out of favour for much of last season, such as Neil Shipperley and Danny Butterfield, will also have talks with the Palace manager about their futures, which may result in them looking elsewhere for first team football if their chances will again be limited next term.
Bob Dowie also revealed that he hopes to speak to Nicola Ventola when he returns from holiday, with a pay-as-you-play deal being mentioned for the Italian international.