March 16 2006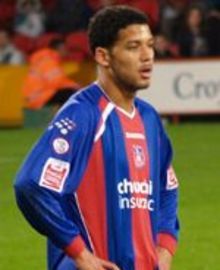 This time last season Palace were embroiled in speculation surrounding the departure of the club's much- heralded, bright, young winger Wayne Routledge, by Stuart Pink.
The ex-Palace trainee's insistence on leaving Selhurst Park was a bitter pill to swallow for many Eagles fans and it was an unwelcome distraction going into what turned out to be a disappointing end to the season. If only fans knew what was to come of his replacement.
Jobi McAnuff has been without doubt Iain Dowie's signing of the season and, on a par with Emmerson Boyce, the best signing the Palace boss has made since returning to Selhurst Park as manager in 2003.
Comparisons with Routledge were always going to be made and they both share similar qualities, such as pace, good technique and guile.
But the major difference between them is obvious - goals.
McAnuff has already hit seven goals this season, one more than Routledge managed in his last two seasons at Selhurst Park.
Dowie was regularly lamenting his team's lack of goals from midfield last season and the ex-West Ham man has gone a long way to filling that void. Many of them have come in important games, including the last-gasp winner at the Withdean Stadium in November.
McAnuff looks like he's enjoying his time at Selhurst Park, something you couldn't really level at Routledge, which was a reason why many fans fell out of love with the winger.
But if McAnuff keeps up the form and love of the club he obviously possesses, there's no danger of the Palace man falling out with the fans after all he has got his own song.