June 16 2006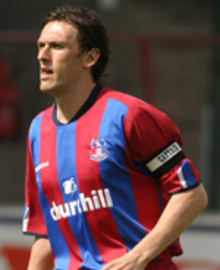 TONY POPOVIC is expected to make his World Cup debut against the might of Brazil this Sunday.
The Crystal Palace defender was on the bench for Australia's 3-1 Group F victory over Japan last week.
Boss Guus Hiddink wants to rest the four Aussies booked from that game in case they are yellow carded again.
He does not want them suspended for their final match against Croatia, which could decide whether they make it to the next stage.
And POPOVIC is likely to replace former Palace player Craig Moore at the heart of the Socceroos defence.
"You hope there is a chance to play, whether (other players) have cards or not, but you never know which way the boss is going to go," he said.
"He has got different thoughts and maybe that (Moore's yellow card) is an issue for him. If it is, and it does change something, then I hope I am one of those he considers."
POPOVIC still cannot believe he is representing his country at a World Cup finals and facing Ronaldinho and co.
"When you watch Brazil on TV against Croatia it's in some ways hard to imagine that on Sunday we'll be actually walking out against them," he said.
"Normally at this time of the year you're on holidays with your family and watching it on TV. Sometimes you have to pinch yourself, but it will soon be a reality."