October 23 2006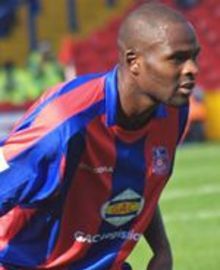 LEON CORT has told the fans to get behind Peter Taylor as Crystal Palace continued their miserable run of form.
Palace have only two wins from the last 11 matches after Saturday's 1-1 draw at Taylor's old club Leicester City.
Tom Soares fired the Londoners ahead in the 16th minute before Leicester equalised with a controversial penalty from Ian Hume.
The Eagles are 11 points adrift of Championship leaders Cardiff City, but CORT believes there is enough time for Taylor to turn things around.
"I think this is a good point for us because it will boost our confidence," said defender CORT.
"New players have been getting used to each other and we have also got a new manager. But by Christmas I think everything will be sorted.
"There are arguments in every dressing room and we are no different. Everything is fine now.
"We are grateful to have Peter and the supporters just need to show a little more patience at the moment."