December 28 2006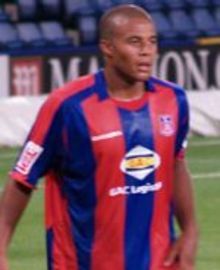 TOM SOARES made his 100th appearance in a red and blue shirt on Boxing Day when Palace drew 1-1 with Southampton, writes Daniel Calver.
The 20-year-old is proving this season to be a key member of the team and he is one of the biggest success stories to come from the Palace academy in recent years, along with fellow England U21 stars Gary Borrowdale and Ben Watson.
SOARES made his debut at the age of 17 in the league against Gillingham under Iain Dowie, having been a huge success in the Palace academy team.
Since then, SOARES has made himself a popular player amongst the Palace faithful and has rewarded their loyalty with three goals already this season, coming against Leicester, Sheffield Wednesday and Queen Park Rangers.
SOARES is the eighth player in the current squad to have reached his ton; Dougie Freedman has the most appearances for the Eagles with 332, and Cinton Morrison is just one game off of his 250th Palace appearance in two spells.
Other players already to have reached their 100th Palace appearance are Danny Butterfield, Danny Granville, Michael Hughes, Ben Watson and TOMmy Black.
Fellow former Palace trainee and England U21 star Gary Borrowdale is just one appearance of joining SOARES in the 100 appearances club.