March 20 2007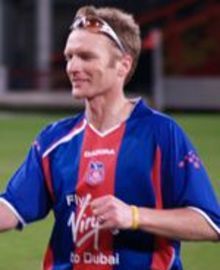 The latest Geoff Thomas Foundation match between Crystal Palace and Liverpool ended in a 1-1 draw.
The match, which was a re-run of the epic 1990 FA Cup Semi Final against Liverpool, in which Palace won 4-3, was enjoyed by a crowd of 5,114 at Selhurst Park.
A huge number of older(!) and extremely popular faces were back in SE25, in order to raise a huge amount of money for the Geoff Thomas Foundation in aid of Leukaemia.
Eagles Chairman Simon Jordan made an appearance from the start, filling the right flank position, together with Gareth Southgate and Kit Symons in the centre of defense.
Perry Suckling was between the sticks from kick-off and was soon in action when Michael Thomas curled a shot at goal, but the former Eagles keeper was equal to his effort.
The impressive Jamie Redknapp came close for Liverpool when he hit the crossbar with a chip over Suckling.
Jordan was impressing down the wing despite his lack of professional experience, and Phil Barber shot over the bar after the Palace chairman picked him out with a cross.
Shortly after Liverpool opened the scoring. Redknapp passed the ball to John Barnes, who produced a fantastic finish with the outside of the foot to place the ball into the top corner of the net.
However, just before the half time whistle Palace hit back. Jordan skilfully passed Steve McManaman before reversing a ball to John Humphrey, who cross for Mark Bright to head past Bruce Grobbelaar.
A number of subsitutions were made in the second half, including Palace manager Peter Taylor showing some fine skills in midfield.
DJ Spoony made a suprise appearance for Liverpool, who put a cross into another sub, John Durnin, but Durnin's shot went wide of the target.
Current Palace favourite Dougie Freedman also came on to the pitch, and almost grabbed a winning goal towards the end when he raced clear of the defence, and almost took the ball past Grobbelaar, but the Zimbabwean just managed to grab the ball from his feet.
Palace: Suckling (Woodman), Humphrey (Cannon) Dyer (Thorn) Young (Southgate) Symons, Pardew (Finnighan) Jordan (Taylor) Thomas, Bright (Freedman) Gray (Ashton) Barber (Hulse).
Liverpool: Grobbelaar, Jones, Redknapp, Thomas, Babb, Gillespie (Gayle), McManaman (Durnin), Houghton, Rush, Barnes (DJ Spoony), Whelan (Spackman).