August 9 2009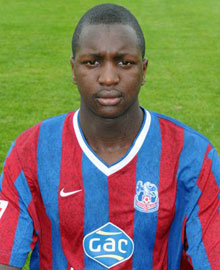 Crystal Palace midfielder Alassane N'Diaye has been given a three-year contract with the club.
The 18-year-old French ace put in a fine display in Saturday's 1-1 draw at home to Plymouth and boss Neil Warnock has been impressed with his overall contribution since joining at the end of last year.
Warnock said: "I gave him a three year contract yesterday and I told him that before he has played a game for us. What I like about him is I love looking at him, he is such a happy man and he makes me feel good and he can play.
"He just wants to play football, in training Clint Hill and Shaun Derry kick him up in the air but he just gets up and goes for the next tackle. You don't get many players like him around and that is why I gave him a three year deal, he is a breath of fresh air."
Krisztian Timar fired Plymouth into a fifth minute lead before substitute Alan Lee equalised on 63 minutes.
Lee replaced new signing Stern John who was rushed to hospital after colliding with Plymouth keeper Romain Larrieu in the first half.
"He [Stern John] is having an x-ray at the moment as he dislocated his elbow, but we do not know yet whether he has broken it," said Warnock.
"Obviously it is not good though but that is part and parcel though of the game. That's football. We just have to get on with it, considering everything that has gone on before I thought we did ever so well today, super."